A remarkable day today at the park. It started out a *c*h*i*l*l*y* 46 degrees, and many of us were underdressed. It did warm up though. Crystal clear skies and no wind, great pre-dawn stars, and lots of birds were the order of the day. Uncooperative birds, however, were many. They either wouldn't sit still, or they would sit still in a terrible (for us) location. But there were lots of birds to see, and surprises.
Highlights:
Greater White-fronted Goose – two landed on the grass soccer fields right at 6:30. First of Fall (FOF), and our 4th earliest fall record ever

Northern Pintail – one flew south about 6:35. FOF, and our 2nd earliest fall record ever

Mourning Dove – one sat, looking very cold, near the Viewing Mound just before sunrise

Virginia Rail – one seen across the slough south of the Dog Area, while we were hearing 2-3 more

*five woodpecker day* – a Pileated seen at the Rowing Club confirmed the 5th species; we'd only *thought* we'd heard one earlier

AMERICAN KESTREL – adult male landed briefly near Dog Central – First of Year (FOY)

Western Wood-Pewee – several seen, with one singing full song. Not seen last week

Willow Flycatcher – 2-3 seen, not seen last week

Warbling Vireo – many (8?), pretty much all in crisp, contrasty plumage

Violet-green Swallow – one

Swainson's Thrush – many SEEN, a few more doing "wheet" calls

YELLOW-HEADED BLACKBIRD – female seen across the slough. FOY, and first fall sighting ever. This is only the 10th record I have for this species in my database

Yellow Warbler – very active flock with 5+ along edge of Dog Meadow, plus a few more. No breeding-plumage males noted

Wilson's Warbler – one or two

Black-throated Gray Warbler – one nice male, plus a female at the Rowing Club

Western Tanager – many, with many quick views of each. Not good at sitting still, but then almost nothing sat still

Black-headed Grosbeak – two glimpsed
Misses today included Hooded Merganser, Glaucous-winged Gull (though we did have about 6 Larus sp.), Green Heron, Red-breasted Nuthatch, Lincoln's Sparrow, and Orange-crowned Warbler.
For the day, 62 species plus Larus sp. For the year, adding Kestrel and the Yellow-headed Blackbird, we're up over 150 species for 2021 already.
= Michael Hobbs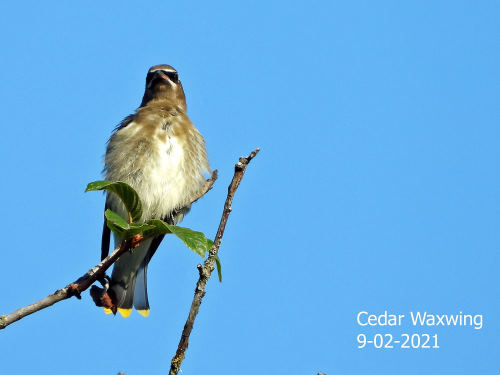 Juvenile Cedar Waxwing. Photo by Bob Asanoma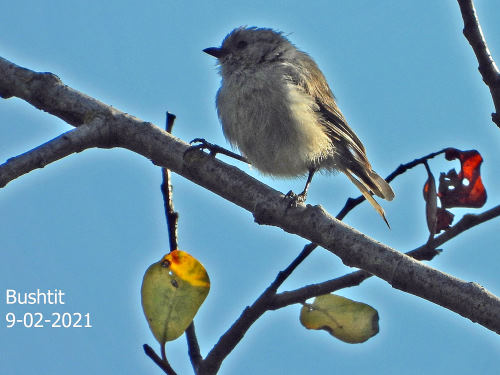 Bushtit. Photo by Bob Asanoma